The newbuild of Conoship's first innovative, diesel-electric 3600 tdw general vessel is taking shape at the Gelibolu Shipyard.
Based on several proven designs, Conoship International presents with the CIP3600 her vision of an innovative, future proof and environmentally friendly vessel for the transport of general cargo at inland as well as coastal waters. We are very proud to share the progress of Gelibolu Shipyards building number NB60.
Cooperation Gelibolu Shipyards
Several Conoship designs have been built at the Gelibolu Shipyards in Turkey. We asked our long-term partner,  Oya Aksoy – board member of Gelibolu Shipyards about our collaboration and the building of our newest project together.
"We had built Conoship designs before – both for our own general cargo fleet and for other customers – and were pleased with the performance of the vessels, particularly their fuel efficiency. When we started looking at the future of general cargo vessels, the CIP 3600 was a strong proposal. We were impressed with the research that had gone into the design, from modern building techniques to features regarding the vessel's operation. It was also important to us that the design balanced practicality with the long-view over the vessel's lifetime, allowing for flexibility regarding future fuel innovations and changes in emissions legislation."
"Our strengths lie in high added-value projects, and we have extensive experience building small-to-medium size river-sea vessels, and with diesel-electric propulsion in offshore supply and accommodation projects. All of these factors made the CIP 3600 a good fit for our new building program."
"At the shipyard, we have in-house teams for steelwork, piping, electrical, painting, and outfitting, and we work hard to ensure continuity of knowledge and skills in the company. Having staff at all levels who bring relevant experience and expertise from previous vessels to the project has ensured that everything has progressed on schedule. Communication with the Conoship project management team and their ongoing support has also been invaluable."
"Steel cutting began in November, and we are on track for delivery of the first vessel in January 2024."
Progress newbuild CIP 3600
Section and block building for the first CIP3600 built by Gelibolu Shipyard is well underway. Below we share with you the progress from the steel-cutting ceremony to the section and block building until April this year.
24th November steel-cutting ceremony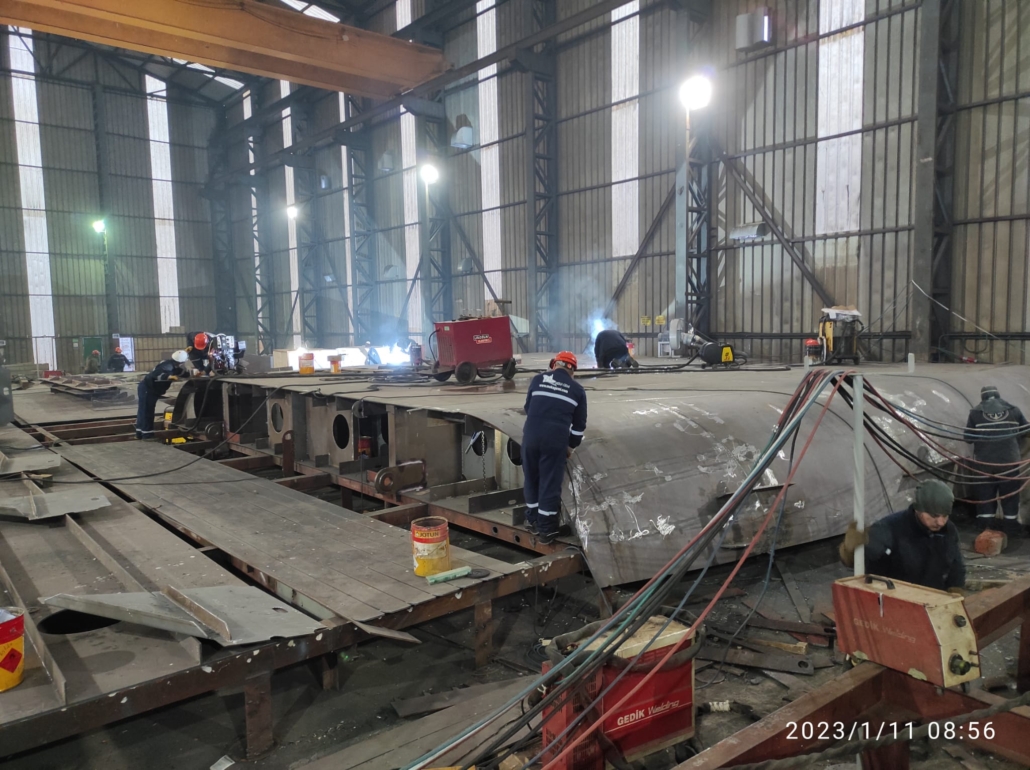 Conoship will stay involved during the entire process from build to launch and christening. The vessel is expected to be delivered start of 2024.
Pictures courtesy of Gelibolu Shipyards